Gain More Financial Freedom, And Get Back Time In Your Life!
"If You've Never Thought About Investing In Yourself, Then You're in for a Marvelous Surprise…"
Most people work a job or jobs to get the things they desire – but those who succeed know they have to create their own success…
Hey Future Lash Boss,
If you're like most women, then you're probably working a job, or jobs, that are barely allowing you to pay your bills.
That's definitely the old fashioned way, and it gets you by.
But there's one huge, lingering issue…
You work many hours at a job and at the beginning of the month you are still short of money for the bills. Or your doing beauty services, and need another stream of income to add to your service menu. You know that feeling, right?
Not having enough money to pay bills, buy food, or buy basic necessities, is a problem. It makes you feel frustrated and like you're losing control and can't get ahead! It can lead to health issues because you're stressed out about it.
It's enough to make you wanna just give up on your dreams and just keep trying to stay afloat with little money at that job.
But hold up fren – you have the power to change all that…
Instead of conforming to the standard textbook way, imagine if you were able to gain more financial and life freedom by becoming a LASH ARTIST. Would that light a fire in your soul? 
Here Are 5 good reasons why being a LASH ARTIST Is The Best Way to give you more money in your pocket and more life freedom…
Reason 1: Your bank balance will grow.
You will have clients that will pay for the skill you have learned.
Reason 2: You will be able to do the things you want to do.
You will make your own schedule that will allow you time for yourself and your family.
Reason 3: You will fire your boss.
You will be making the decisions that will enhance your future.
Reason 4: You will help women bring out their natural beauty.
You will apply lash extensions that will make them feel pretty, flirty, and powerful.
ire others.
You will motivate other women when they see you earn a living, scale your business, and give back to their community by sharing your knowledge with others.
You can see there are a whole lot of benefits to being a LASH ARTIST. And that's why you're going to want to enroll in the online, Sheer Faces Classic Lash Application Training now!
Introducing Online Classic Lash Application Training – A Surefire Way To Gain More Financial And Life Freedom Without Working Yourself To Death!
The Classic Lash Application Training shows you how to apply lash extensions to start your own lash business, and start making more money!
Here's what I'm offering when you invest in yourself and buy the online lash course:
Self-paced online learning. You can learn anywhere, anytime, you need to!
Ongoing support through the Facebook group. We support you on your lash journey!
Videos of how to apply classic lash extensions that you can re-watch as you need too!
A .pdf file of tools you need to practice with and complete your exam. The right lash tools are key! 
Business strategies to help you get your first lash clients. Start making money quickly!
And much, much more – the Classic Lash Application Training course gives you the tools to launch your lash business as a LASH ARTIST!
So, you're liking what you're reading. You know this course can change your life and give you more financial freedom. But you wanna know – how much is it?
Let me ask you this…
Would You Trade At Least 5 Hours A Week To Learn How To Become A LASH ARTIST?
When you invest in yourself and you order now, you get all my knowledge for less then the price of an authentic designer bag, iPhone, or the good premium hair.
That price may seem not legit, but it is! Maybe you're wondering how I can offer so much for this small cost.
It's pretty simple, really. I love sharing my knowledge and helping women gain more money and life freedom.
The bottom line here is that you're getting a GREAT deal. And to sweeten the pot even more, I'm going to throw in this bonus…
Order Now And Get The Change Your Mind EBook As My Gift To You!
This offer is pretty amazing just the way it is. But now I'm going to make it absolutely irresistible by throwing in the Change Your Mind e-book when you order today.
The Change Your Mind e-book helps you to get your mind in the right place to start living your life on your own terms. Starting a lash business means training your mind to bring in the right mental stability to handle it all.
This Change Your Mind e-book is a $15 value, but it's yours free when you order now! That's why you'll want to take out your credit card and click the button below now to get started.
xoxo....
Miss La
P.S. The time is now for you to INVEST IN YOURSELF! I believe in you. Let's make this happen.
This is me in action! I'm a licensed Cosmetologist from Michigan. I'm Lash Artist that has invested time and money to learn the lash business and to scale my own. With patience, time, and commitment, you can do the same thing.
If you're a licensed beauty professional, come join me to get more money, more time, and more joy in your life.
Questions or Concerns?
Got questions about the lash business? I'm here to help!
Sheer Faces Lash & Business Training Academy
22441 Gratiot Ave., #206
Eastpointe, MI 48021
(866) 301-1157
customerserivce@sheerfaces.com
*THIS CLASS IS FOR LICENSED BEAUTY PROFESSIONALS. PLEASE BE SURE TO CHECK WITH YOUR STATE, COUNTRY, OR PROVINCE, TO SEE THE SPECIFIC REQUIREMENTS TO APPLY LASH EXTENSIONS TO THE PUBLIC.*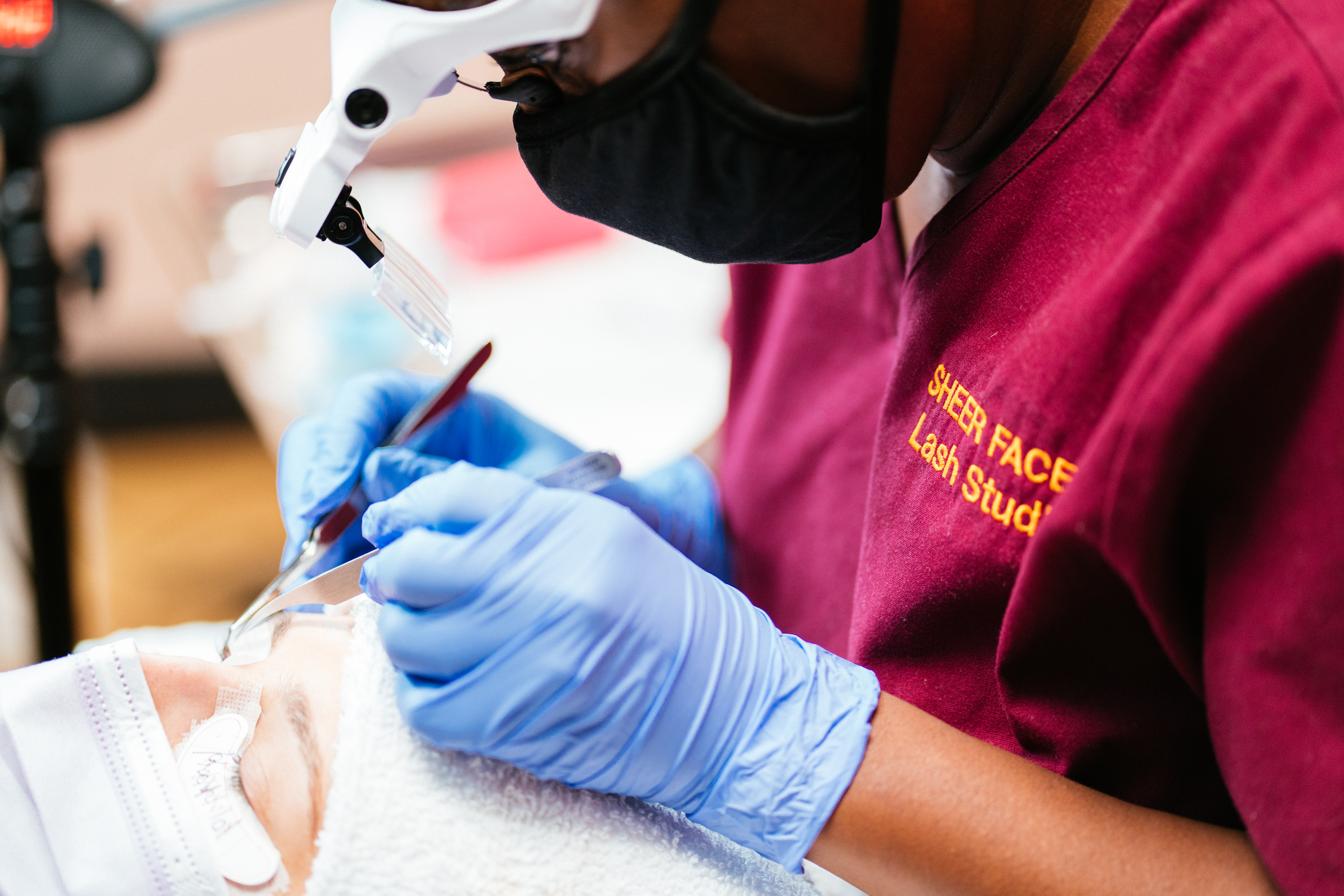 Check your inbox to confirm your subscription